Mercy Vineyards
---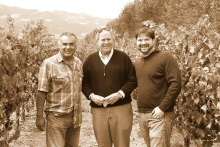 Through the millennia, Man's quixotic attempt to produce the finest wines has borne an unyielding Truth: The Vine is always at the Mercy of Mother Nature.
Mercy Vineyards represents a pursuit to showcase the innate spirit of Monterey County's Arroyo Seco AVA as one of the preeminent locales for the cultivation of world-class Burgundian varietals, Pinot Noir and Chardonnay.
With over half a century of combined experience in the wine-industry, vintners Mark Dirickson and Mike Kohne established Mercy Vineyards to produce Chardonnay, Pinot Noir, Sauvignon Blanc and Syrah from the Arroyo Seco growing region of Monterey County. The company sources fruit from distinguished vineyard sites in the dried Riverbed corridor, and the wines are made by renowned winemaker Alan Phillips.
---
Featured Wines: