Boete Winery
---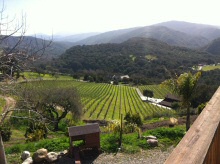 Nestled on the eastern edge of Carmel Valley sits the Saunders Vineyard, a boutique winery producing Estate grown Cabernet Sauvignon and Cabernet Franc grapes under the label Boëté.
The secret of the wine, Saunders says, is in the quality of the grapes, and old world wine making techniques that utlize French Oak barrels.
"Winemaking to me, is art," Saunders says. "If the wine isn't good, I'll run it back down the hill and into the ground, where it came from. But when I hear about people who enjoy it, that's when I really feel wonderful."
Working in the vineyard and winery is a family affair with sons Jesse, Sam, and Dillon working full-time alongside their dad. John makes all the vineyard and wine making decisions, with great attention being paid throughout the growing season and wine making process; from pruning to fermentation and aging, to blending and barrel selection.
---
Featured Wines: